Prof. B. K. Mishra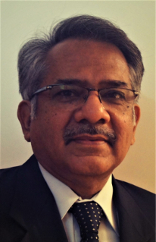 Designation : Director
Broad Area of Expertise : Materials Engineering
Email : bk{at}iitgoa.ac.in
Contact Number : 0832-2490-897
Address : Director Office, Admin Block, Main Building
Educational Qualifications
Ph.D. (Metallurgical Engg) , University of Utah Salt Lake City, USA (1991)
M.S. (Metallurgical Engg) , Wayne State University Michigan, USA (1986)
B.Sc (Metallurgical Engg) , NIT Rourkela, India (1981)
---
Areas of Research
Extractive Metallurgy, Thermal Plasma, Particulate Materials, Discrete element methods (DEM), Appropriate Technology
---
Courses Taught
---
Professional Appointments
Director CSIR-IMMT Bhubaneswar (Dec 2005 - March 2017)
Chairman, Recruitment & Assessment Board CSIR, New Delhi (May 2015 - May 2016)
Professor IIT Kanpur (July 2001 - June 2011)
Visiting Professor, University of Utah, USA (Dec 2003 - July 2004)
Associate Professor, IIT Kanpur (May 1997 - July 2001)
Visiting Professor, Aston University, UK (July 1999 - July 2000)
Assistant Professor, IIT Kanpur (July 1993 - May 1997)
Post-doctoral fellow, University of Utah, USA (Jan 1991 - June 1993)
Project Engineer, IMFA, India (June 1981 - July 1984)
---
Recent Publications
S. Dash, Swati Mohanty, B.K. Mishra, CFD modelling and simulation of an industrial scale continuous fluidized bed roaster, Advanced Powder Technology, 31(2), 658-669, 2020.
P.R. Behera, B. Bhoi, R.K. Paramguru, P.S. Mukherjee, B.K. Mishra, Hydrogen plasma smelting reduction of Fe2O3, Metallurgical and Materials Transactions B., Issue 1, 2019.
K.C. Sabat, R.K. Paramguru, B.K.Mishra, Formation of copper-nickel alloy from their oxide mixtures through reduction by low-temperature hydrogen plasma, Plasma Chemistry and Plasma Processing, 2018
S. Das, D.P. Das, C.K. Sarangi, B. Bhoi, B.K. Mishra, J. Ghosh, Optical emission spectroscopy study of Ar-H2 plasma at atmospheric pressure, IEEE Transactions on Plasma Science, 46 (8), 2909-2915, 2018.
---
Recognition and Awards
Distinguished Alumnus Awards, NIT Rourkela, 2019
VASVIK Award, 2012
Fellow of Indian National Academy of Engineering, 2009
National Mineral Award, 2007
IIME Mineral Beneficiation Award, 2007
---
Edit Profile