IIT-Goa signs R&D MoU with US data analytics company
The first-of-its-kind partnership will have both parties working jointly in the fields of analytics, artificial intelligence and machine learning.
One of India's premier centers of learning, the Indian Institute of Technology (IIT), Goa has signed a Memorandum of Understanding (MoU) with the US-based marketing analytics services firm Express Analytics to collaborate in the field of data science and analysis, including in artificial intelligence and machine learning technology. The five-year MoU was signed on May 20, 2019 by Prof. B.K. Mishra, Director, IIT Goa, on behalf of IIT-Goa and by Mr. Atul Dixit, Director, EAIPL, on behalf of Express Analytics.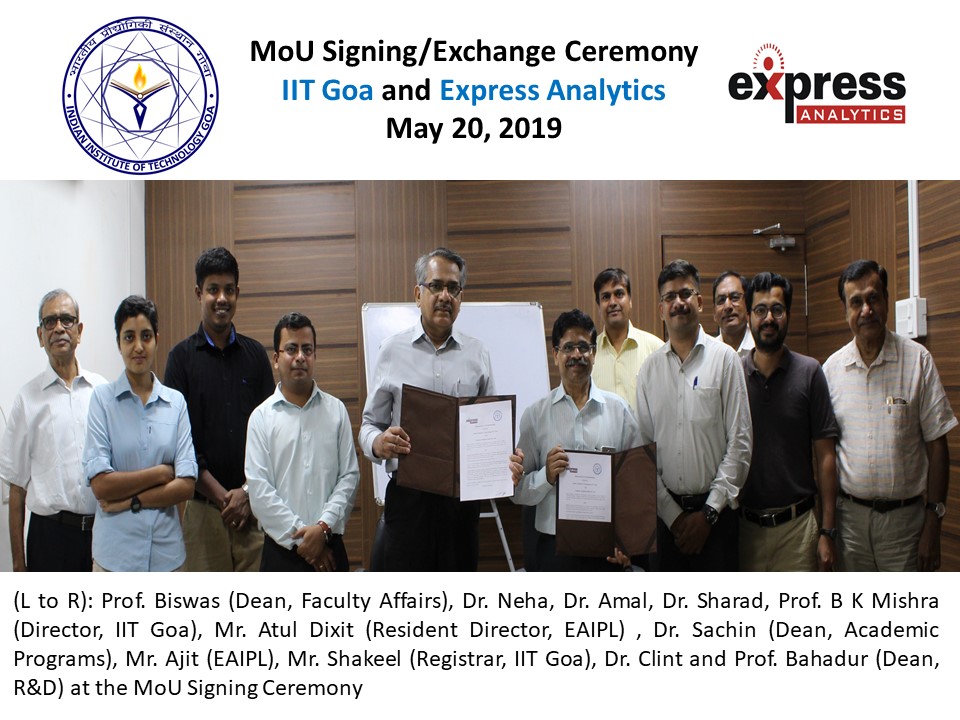 IIT Goa and Express Analytics have also announced a pan-India competition in Machine Learning for students from all over India on to kick off this partnership: http://www.iitgoa.ac.in/AI-competition.php
This is for the first time that IIT-Goa has entered into such a partnership with a private enterprise in the field of data science, marking the start of a new chapter in its history. The main aim of the partnership is to provide a suitable platform to promote cooperative research and to facilitate the exchange of ideas, the development of new knowledge, and to enhance high quality research acumen in the fields of artificial intelligence, machine learning, deep learning, data science and data analysis, data mining and knowledge discovery.
Under the new arrangement, IIT Goa and Express Analytics will jointly explore research and development (R&D) options in product-building programs, and publish important findings in research publications. In addition to carrying out research and development activities, the two partners will also organize on- premise and public events around these technologies. Express Analytics will also partner IIT Goa in internship programs in these technologies for its students.
At this occasion, Prof. B. K. Mishra, Director IIT Goa said "It is a welcome opportunity for both IIT Goa and Express Analytics to engage in R&D activities related to the burgeoning and upcoming field of Data Analytics and Artificial Intelligence. IIT Goa believes in strong industry-academia interaction and today's MoU is a strong step in that direction. We believe that this cooperation would enable new product development based on basic and applied research. This would also give exposure to students in IIT Goa and nearby engineering colleges to real world challenges in AI based application design and development. Together with our industry partners like Express Analytics, we plan to train more students, including from non-IIT institutions, to prepare them as AI-ready workforce."
Mr. Hemant Warudkar, CEO, Express Analytics said, "In the data economy of the future, abundance of data and utility computing creates new opportunities for AI/ML driven real-time business decisions. The missing element is the Human expertise in AI/ML. By engaging with the IIT GOA and adding this missing element, Express Analytics plans to ignite the spark of innovation in eCommerce. Real-time data analytics, predictive marketing, identity resolution and Contact Optimization are some of the areas of eCommerce that we expect to collaborate on. Express Analytics firmly believes in collaborative thought sharing for furthering of knowledge creation. Prof. Abhay Karandikar, Director, IIT-Kanpur introduced us to Dr. Somenath Biswas of IIT GOA during one of the thought sharing sessions and we are very thankful to him. Express Analytics is developing an "AI first Customer Data Platform" and is seeking exceptional talent from IITs and other higher educational institutions for our Machine Learning and Artificial Intelligence team."
Prof. Abhay Karandikar, Director, IIT Kanpur notes: "'I am pleased to note that Express Analytics is developing innovative solutions based on AI/ML in partnership with IITs. I am sure that this will benefit mutually and IIT students will get exposed to real life problems."
According to a survey by Gartner, by 2023, artificial intelligence and deep-learning techniques will be the most common approaches for new applications of data science. Some of the other subjects that the joint team will explore include present-day and future use of machine learning in analytics, discovering ways and means of enhancing the use of data analytics, and the many ways that enterprises can derive benefits by deploying advance forms of data analytics.
About IIT Goa: IIT Goa is an Institute of National Importance (INI) established by an Act of Parliament of India. It offers undergraduate, post graduate and Ph.D. degree programs in engineering and science disciplines. Faculty, staff and students are actively engaged in research and development in relevant areas.
About Express Analytics: Express Analytics is a leading consulting organization that specializes in marketing analytics services, business intelligence, data warehousing and data integration solutions. It has many Fortune 500 companies on its clients' list. Express Analytics offers cloud-based marketing analytics solutions and services on a Software-as-a-Service (SaaS) basis, designed to dramatically improve the effectiveness marketing campaigns with direct and significant impact on customer acquisition, retention and development
For more information, please contact:

| | |
| --- | --- |
| Prof. Dr. Sharad Sinha | Mr. Hemant Warudkar |
| Prof. Dr. Clint George | Mr. Ajit Abhyankar |
| IIT Goa | Express Analytics |
| {sharad,clint}{@}iitgoa.ac.in |     {hemant,ajit}{@}expressanalytics.net |