The laboratory can cater more than 50 students of B.Tech/M.Tech and Ph.D. programs. The electrical machines in the laboratory are equipped with the capability to directly measure various performance quantities such as torque, efficiency, etc. Further, for direct measurement of the performance parameters, various modern equipment like digital meters, torque sensors, speed encoders, etc. are employed in the workbenches. The laboratory has desktop computer workstations for running finite element simulation software like MagNet/Maxwell/Flux. This enables the students to have a virtual experience of designing and fabricating various electrical machines through custom-designed lab experiments. Moreover, this facility also helps the post-graduate and Ph.D. students in the field of electrical machines to design and validate their sophisticated electrical machines.
The equipment and infrastructure allows the UG and PG students to be exposed to state-of-the-art laboratory facilities. Availability of sophisticated instruments facilitates incorporating challenging and thought-provoking lab experiments and projects. This helps the students to have a better understanding of the fundamentals whilst coping up with the modern day trends/analysis techniques on electrical machines.
Facilities for conducting following experiments are available:
1. Speed Control of DC Shunt Motor by Field Current control and Armature Voltage Control method (Power electronic control (or) Rheostatic control – both are possible)
2. Load Characteristics of DC Shunt Motor
3. N-I Characteristics of DC Shunt Motor
4. Self-excited DC Shunt Motor
5. No-load and load Characteristics of a Separately Excited DC Shunt
Generator
The following are the important equipment available in the laboratory in addition to the machines workbenches.
Three phase power logger
High voltage programmable power supply (Source and sink capability)
DC power supplies
Digital contact and non-contact tachometers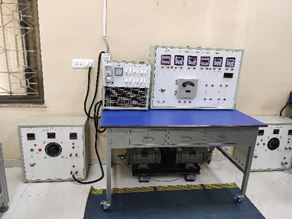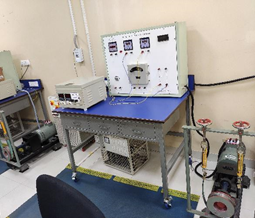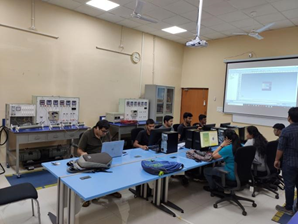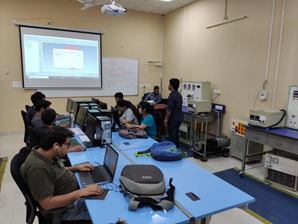 Regenerative Dynamometer Test Bench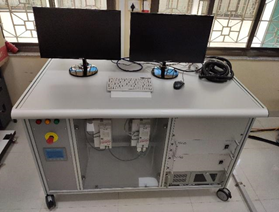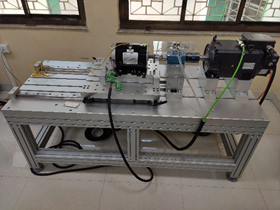 This dynamometer can be used to test machines for rating up to 10 kw, with torque range from few Nm to 100 Nm having speed up to 15000 rpm.