Dr. Qudsiya Contractor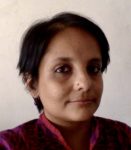 Designation : Faculty Associate
Broad Area of Expertise : Humanities and Social Sciences
Email : qudsiya{at}iitgoa.ac.in
Contact Number :
Address :
Educational Qualifications
MA
PhD
---
Areas of Research
---
Courses Taught
HS 241: Introduction to Sociology
---
Professional Appointments
Junior Fellow, Max Weber Centre for Advanced Social and Cultural Studies, University of Erfurt, Germany (2019-20)
Fellow, India-China Institute, The New School University, New York (2017-19)
Assistant Professor, Tata Institute of Social Sciences, Mumbai (2014-17)
Assistant Professor, Institute of Social and Economic Change, Bangalore (2014)
---
Recent Publications
"Feminizing citizenship: Why Muslim women protest the CAA", PS: Political Science and Politics, 9-10, (First view published on 17 August 2021) October 2021.
"Ritual pollution, secular filth and the politics of cleansing Mumbai", Religion and Urbanity Online, 31 August 2020.
"Muslim Women and the Challenge of Religion in Contemporary Mumbai", Economic and Political Weekly (Special Issue on Review of Women Studies), Vol. 52, Issue No. 42-43, 28 Oct, 2017. Reprinted in Mumbai Reader 18, Urban Design Research Institute, Mumbai, 2018.
Muslim women, caste and the beef ban in Mumbai, in Anupama Rao (ed.) Gender, caste and the imagination of equality. 2018. Women Unlimited, New Delhi.
"Quest for water - Muslims at Mumbai's periphery". Economic and Political Weekly, Vol. XLVII No 29, July 21, 2012.
Jab Babri Masjid Shaheed Huyi: Memories of Violence and Its Spatial Remnants in Mumbai in N. Jayaram (ed.) Social Dynamics of the Urban. Exploring Urban Change in South Asia. 2017, Springer, New Delhi.
'Remaking the mohalla: Muslim basti-dwellers and entrepreneurial urbanism in Mumbai' in S. Kanekanti (ed.) Entrepreneurial Urbanism in India, 2017, pp. Springer, New Delhi.
'Institutionalising peace? - Mohalla committees in Contemporary Mumbai', in Hugo Gorringe, Roger Jeffery and Suryakant Waghmore (eds.) From the margins to the mainstream: Institutionalising minorities in South Asia, 2016, pp. 201-228, Sage, New Delhi.
'On the madness of caste - Dalits, Muslims and normalised incivilities in neoliberal India' (co-author) in Brij Mohan (ed.) Global frontiers of social development in theory and practice, 2015, pp. 223-240, Palgrave-Macmillan, New York.
'Unwanted in my city - The making of a 'Muslim slum' in Mumbai', in Gayer, L. and Jaffrelot, C. (eds.) Muslims in Indian cities - Trajectories of Marginalisation, 2012, pp. 23-42, Hurst & Co., London.
Saranchatmak hinsa aur swasthya ke pratiched: Jatiya hinsa aur daliton ke bahishkaran par kuch vichar (co-author) in Imrana Qadeer (ed.) Dalit Mahilaon ka Swasthya evam Adhikar, 2012, pp. 260-271, Penguin, New Delhi. [In Hindi]
"Understanding the impact of involuntary resettlement on women's access to health care in Mumbai, India". Journal of Comparative Social Welfare , 24 (2), 153-163, 2008.
"Fieldwork and social science research ethics". Indian Journal of Medical Ethics, 16 (1), 2008.
---
Recognition and Awards
---
Edit Profile